Rafters Music Club

Rafters is a friendly music club in central Auckland.

Held on the 3rd Friday of each month
Time: 8-11pm

Admission: $10

Venue: Unitarian Church, 1a Ponsonby Road. Next to the Art Station. Between K'rd and Hopetoun St.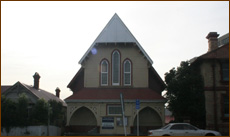 Rafters Music Club promotes music from traditional to contemporary. We welcome new performers.

Our format is open mic (without a mic!) in the first half, supper, then guest/s. Anyone who would like to perform in the first half is welcome to see Graham at the door, but please put your name down before the 8.00pm start.
Tea, coffee & biscuits provided for supper.



Contact Rafters

Email: jenniferhowarth0@gmail.com
raftersmusicclub@gmail.com




Music Club Links

- Auckland Bluegrass

- Devonport Folk Music Club

- East Coast Folk Club

- Titirangi Folk Music Club
- The Barebones Acoustic Folk Club

- Auckland Folk Festival. A great camping weekend full of concerts, workshops, dances and fun.
Hi Folks,

Happy New Year to you all and may it bring you joy and happiness.
Usually we open Rafters in January, but unfortunately, this year we do not feel that we can have everything in place to adequately do so. That said we look forward to seeing you all again in February. So, download your vaccine passes, maybe locate that mask and we'll see you then.
Take care and stay safe,
Graham, Linda, Jennifer and Alistair.
In Memory
Sadly Cath Wodman passed away a couple of days ago. Originally from the UK, Cath played an active part in the folk scene from the time she arrived in New Zealand in the 1970s. She will be remembered for her infectious smile and her beautiful voice. A good friend and musical companion to many.
(LJR)
If you would like to subscribe to our email list send your email address to: raftersmusicclub@gmail.com
or message us via Rafters Facebook page