Rafters Music Club

Rafters is a friendly music club in central Auckland.

Held on the 3rd Friday of each month
Time: 8-11pm

Admission: $10 cash at door

Venue: Unitarian Church, 1a Ponsonby Road. Next to the Art Station. Between K'rd and Hopetoun St.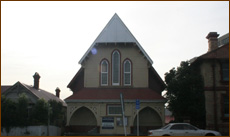 Rafters Music Club promotes music from traditional to contemporary. We welcome new performers.

Our format is open mic (without a mic!) in the first half, supper, then guest/s. Anyone who would like to perform in the first half is welcome to see Graham at the door, but please put your name down before the 8.00pm start.
Tea, coffee & biscuits provided for supper.



Contact Rafters

Email: raftersmusicclub@gmail.com
or contact us via Messenger




Music Club Links

- Auckland Bluegrass

- Devonport Folk Music Club

- East Coast Folk Club

- Titirangi Folk Music Club
- The Barebones Acoustic Folk Club

- Auckland Folk Festival. A great camping weekend full of concerts, workshops, dances and fun.
Held at The Unitarian Church
1a Ponsonby Road
at 8pm every 3rd Friday of the Month.
$10 cash at door
Our Guest for Friday Friday November 17th will be
Donna Dean
Rafters is so lucky to have Donna Dean as our guest artist this month.
On the 25th of September 2023 Donna Dean released a new album titled 'Kisses and Other Things', Donna's ninth studio album. The twelve self- written tracks (co-produced with Dunedin's John Egenes) feature additional vocals from American folk artist Eliza Gilkyson and Kiwi artists Liv Cochrane, Kylie Price and Anna Bowen. 'Kisses and Other Things' is a mix of folk tales set to music. They are short stories of life, love and dreams.
You can see the latest album review by Graham Reid via this link.
https://www.elsewhere.co.nz/music/10877/donna-dean-kisses-and-other-things-digital-outlets/
It's no surprise to see names like Grammy nominee Gilkyson associated with Donna's music as she has worked with a host of songwriting legends in her more than thirty year career, including American Bluegrass artist Rhonda Vincent, singer songwriter Russell Smith and songwriter/producer Gurf Morlix to name a few.
Donna is a triple Tui award recipient who toured extensively through Germany between the late 1990's and 2013. An award winning documentary on her life and music career, directed by filmmaker Bill Morris, was a hit at the 2017 Winnipeg film festival in Canada and sold out screenings at the DocEdge film fest in New Zealand in 2016 where it premiered.
She writes about life's everyday occurrences and growing up in a suburban Auckland home where addiction and other dysfunctions were the norm.
Donna will play an intimate solo session at Rafters. Don't miss it!
Programme
The first half of the evening brings musicians old and new to warm us up before supper and our main guest/s. We welcome new performers. See Graham at the door if you want to perform, but you will need to be there before the 8pm start.
Photos and Videos
Photos and some videos of performances will be taken during the evening and displayed on our Facebook page. We also have a Rafters Music Club YouTube channel where we display some videos (type Rafters Music Club into YouTube search to find these videos). Please see Linda if you do not want your images publicly available.
See you there
Graham, Linda, Jennifer and Alistair